// OPEN VISUAL :
VATORE MANSION INTERIOR
CALEB VATORE, a young vampire, awakes in a violent sweat of fright. He's had a terrifying daymare during meditation, but it slithers from his fingers as soon as he stirs. All that remains is an intense rush. He tries to recapture an image, any image at all, but all he can think of is the fear of running from a huge cat.
CALEB flips over his phone, plugged in next to his bed. 0 messages. No messages. Nada.
Quickly he dresses in his favorite shirt and burgundy coat. Since his teenage years, when the Curse set in, his ability to feel hot and cold diminished greatly. He has favored coats regardless of season. He fluffs his hair, although the gel is starting to get stale. He'll soon need a shower.
CALEB walks across the hallway to his sister's door.
CALEB
(knocking) HEY SIS, WHAT'RE YOU UP TO?
There is a pause before she answers. As the older sister, she reserves the right to be cold when she feels it necessary.
LILITH
GETTING READY TO GO OUT; YOU CAN COME IN.
CALEB opens his sister's door. His sister is applying sunscreen to her face.
CALEB
SO… UH… WHERE YOU —
LILITH
(interrupting) NONE OF YOUR BUSINESS.
CALEB
SO IT'S QUARQ.
LILITH pauses her sunscreen application to look at CALEB.
LILITH
SO WHAT IF IT IS.
LILITH turns around to resume her preparation, digging around in a makeup bag. CALEB leaves the room.
The VATORE mansion maintains a chilly ambiance as LILITH finishes her preparations. CALEB fiddles with some chess pieces in the living room when LILITH finally leaves without a word.
The tiniest hint of sunlight filters through the window, far less than the headlights of LILITH's ride. CALEB hears the car's engine slowly fade into the distance. Suddenly he dashes his hand across the chessboard and pieces scatter across the floor.
~

CALEB//
hey girl
how's it going?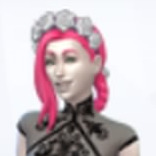 RINI//
same old same old
u?
// CLOSE VISUAL //