STRAUD 023: What You Know
---
// STRAUD MANSION //

I truly got mixed up with the Marscapones in an event that was not lost to the Hexfiles.
The year was 1995.
MANDARC
HOW DID YOU MEET VINCENT?
STRAUD
THE FIRST TIME?

I'M NOT SURE I REMEMBER THE FIRST TIME ANYMORE.

BUT THAT TIME HE WANTED HELP RETREIVING HIS SON FROM TRELAINE.
MANDARC
YEAH, YOU WERE SOMETHING OF A LEGEND AROUND THE LAB.

MOST DIDN'T WANT TO DISCUSS IT THOUGH. ESPECIALLY NOT WITH ME AROUND.

BUT I GATHERED THERE WERE EXPLOSIVES INVOLVED.
STRAUD
I CALLED IN OLD FAVORS OWED.
MANDARC
SWEET.

YEAH, IT WAS CONNECTED WITH A LARGE INCREASE OF SECURITY AT THE LAB.
STRAUD
IT IS NOT A COURSE OF ACTION I'D OFTEN TAKE.
MANDARC
IT WAS QUARQ, WASN'T IT?

HE'S SUCH A BELIEVER.
STRAUD
VINCENT WAS HIBERNATING A LOT IN THOSE DAYS.

IT REQUIRED GREAT ENERGY TO DO WHAT HE DID.

YOU ARE YOUNG, YOU DO NOT UNDERSTAND WHAT IT IS TO HAVE TO EXERT YOURSELF IN SUCH A WAY.

BUT FOR VINCENT, ONE OF THE OLD ONES, IT WAS TRULY A FEAT TO BEHOLD.
MANDARC
WERE YOU THERE?
STRAUD
NOT THEN, IN 1995, NO. I WASN'T THERE.

IT WAS HIS FIGHT.

BUT I LED HIM RIGHT TO HIS DOORSTOP.
MANDARC
DID KEV TRULY HAVE THE TEETH?
STRAUD
IN SOME RETELLINGS.
MANDARC
WHY DID CEDRIC SPOOF IN HIS APPEARANCE TO THE GOTH KID?
STRAUD
HE WISHED HE'D BEEN THERE AND THOUGHT IT WOULD MAKE FOR AN EASIER LIE, SHOULD THE TIME COME.

HE WAS PLANNING FOR THE FUTURE.

I DON'T FAULT HIM FOR IT.
MANDARC
YOU DON'T FAULT HIM FOR MUCH.
STRAUD
EXCUSE ME?
MANDARC
YOU DELIVERED THE ZHOU FAMILY TO HIM ON A SILVER PLATTER.
STRAUD
AND YET HE'S ATTEMPTING TO SHIRK HIS DUTIES.
MANDARC
NO ~
STRAUD
DIFFERENT THAN WHAT YOU'RE ATTEMPTING TO DO BY ATTENDING COMMUNITY COLLEGE WITH MARSCAPONE?

I FIND THE WHOLE ESCAPADE TO BE A COLLOSAL WASTE OF TIME.
MANDARC
I'VE BEEN THINKING, MASTER.

WHAT IF THERE'S MORE TO OUR VICTORY THAN ELIMINATING OUR ENEMIES? WHAT IF THERE'S ALSO WINNING THE HEARTS OF THE PEOPLE?

IF THE REVEAL IS TRULY ON ITS WAY THEN IT FALLS TO US TO BE PREPARED.

I WANT TO BE STANDING UPRIGHT AMONG THE FALLEN MASSES.

I WANT TO BE THERE TO LEAD OUR PEOPLE TO VICTORY AND PEACE.

IF I AM THERE STANDING AS A BEACON OF GOODNESS, I WILL BE PRIMED TO BE A FIGURE OF DIPLOMACY.
STRAUD
IT'S GOOD ENOUGH IN THEORY BUT CAN YOU ACTUALLY MAKE IT THROUGH?

THE RISKS ARE HIGH.

YOU HAVE TO LEARN TO TRUST THE EVERY DAY STAN.

AND MARSCAPONE IS ALREADY ON YELLOW ALERT.
MANDARC
YOU WOULDN'T HAVE BROUGHT EMMITT HERE IF YOU DIDN'T BELIEVE HE'D BE SAFE.

WE'LL GO THROUGH SAFE CHANNELS.
STRAUD
YOU THINK THERE ARE SAFE CHANNELS?
MANDARC
I HAVE FAITH.
---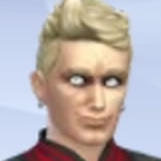 CEDRIC//
You have to know when to hold 'em
Know when to fold 'em
Know when to walk away.
---