---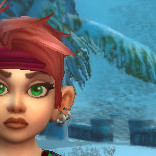 PIDGE-ADMIN//
open chat @08:59 AM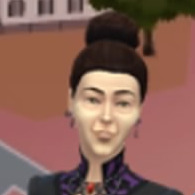 MYRTLE//
Cedric. I wanted to congratulate you on the new job.

CEDRIC//
I don't have the job yet.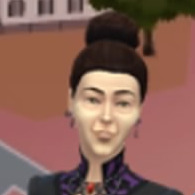 MYRTLE//
Oh stop being modest. I'm sure you'll have no problem with it.
Vincent was able, too, to set others in awe of him.
Of course he tended to avoid the normies all together...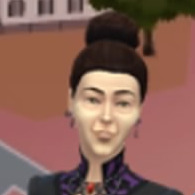 MYRTLE//
Please come over here, I want to talk to you and give you something.

CEDRIC//
I'll be over.
close chat @09:04 AM
---
// MARSCAPONE SCHOOL OF MAGIC //

In the parlor of the MARSCAPONE SCHOOL OF MAGIC waits the elderly sorceress MYRTLE MARSCAPONE.
MYRTLE
(thinking) Summer is out, Agnes is out…

(thinking) and George Henry slumbers in the basement.

The house is quiet. It is these moments for which MYRTLE lives.
---

Finally, she hears the telltale sound of the basement door opening and closing. It must be CEDRIC. But something about the entrance surprises her, catches her off-guard.
MYRTLE
(thinking) Yes, of course, he wouldn't enter through the front door.

Why had she forgotten?
MYRTLE tears herself from her seated position and prepares to descend the stairs to the lower level of the house.
The door to the basement is located underneath the first-floor staircase; just before the entrance to the kitchen. Tucked away, set opposite some modest light-fixtures.
MYRTLE walks down the stairs. Turning to her left, she spies CEDRIC sitting at a computer desk, presumably pouring over some archives on the (w)IntraNet.
MYRTLE
(thinking) Ah, yes, the children always glued to their devices.

This was a comfortable place. It had been redone since her husband's tenure – always a bit of a murky moisture to the air. The still smell stagnant and reminisant of days long gone.
There is a bit of a forbidding mystery to the space; she'd used to steer clear of the quiet space in which he'd mentored his acolytes.
MYRTLE
CEDRIC. IT'S GOOD TO SEE YOU. ARE YOU WELL?

CEDRIC pounds the escape key. The screen turns to black. He turns around to face her.
CEDRIC
MISSUS.

FINE ENOUGH. I'M GOING FOR THE INTERVIEW ON MONDAY SO I'M RELAXING.
MYRTLE
DO YOU EVER RELAX?

CEDRIC allows for a moment of reflection.
CEDRIC
I WILL REST WHEN THE ENEMY SLUMBERS.
MYRTLE
YOU WILL WORK YOURSELF TO THE BONE.

CEDRIC looks at her. His pale eyes unnerve her and remind her of her reason for calling him.
But she's not ready.
MYRTLE
LET ME CHECK ON THIS SILLY RODENT.

She steps forward, passes the basement entrance, and bends down to peer inside a hamster complex.
MYRTLE
DON'T TELL GEORGE, BUT I REPLACED IT, YOU KNOW.

MYRTLE continues to crane her head about, searching for the inhabitant.
CEDRIC remains seated.
CEDRIC
HE KNOWS.

MYRTLE gets a visual on the hamster.
MYRTLE
I'M SURE HE DOESN'T.

CEDRIC's tone is stern, dismissive.
CEDRIC
IF THAT IS THE COMPANY YOU AIM TO KEEP.

MYRTLE bends down and opens the cabinet beneath the hamster's cage and removes a bag of food.
MYRTLE
WHAT IS THE DIFFERENCE, ONE TO THE OTHER?
CEDRIC
IT IS YOU WHO KEEPS THE SECRET.
MYRTLE
I'LL TELL HIM, EVENTUALLY. I'M JUST NOT READY YET.

The familiar clinkle of kibble falls into a small porcelain bowl.
MYRTLE
ANYWAY, THIS ONE IS GOING TO BE THE LAST ONE.
CEDRIC
(pause) GOOD.
MYRTLE
BUT THAT'S NOT WHY I CALLED YOU OVER HERE, CEDRIC.

Task now complete, she turns around to speak.
MYRTLE
I NEED TO TALK TO YOU ABOUT SOMETHING IMPORTANT.

WHEN MY HUSBAND BROUGHT YOU INTO THE FOLD, WE BOTH SENSED SOMETHING SPECIAL ABOUT YOU.

CEDRIC holds still.
MYRTLE
I ADMIT, I'VE TAKEN ADVANTAGE OF YOU.

I SUPPOSE I JUST WANTED TO BELIEVE THAT IT WAS STILL THE GOOD OLD DAYS AND WE WERE FIGHTING FOR JUSTICE AS WE'D ALWAYS DONE.

YOU WERE ALWAYS ONE OF HIS FAVORITES. I SUPPOSE HE THOUGHT OF YOU LIKE A SON.
CEDRIC
VINCENT HAS A SON.
MYRTLE
AND HE HAS DONE WELL.

BUT YOU WERE ALSO DEAR TO HIM.

AND I'M HAPPY YOU'RE GOING OUT IN THE WORLD. I THINK IT'S WHAT HE WOULD HAVE WANTED.
CEDRIC
I'M NOT SO SURE ABOUT THAT.
MYRTLE
I THINK IF TIMES HAD BEEN DIFFERENT, HE, TOO, MIGHT HAVE DECIDED TO WALK YOUR PATH. HE WAS EXCEPTIONALLY GIVING AND KIND.

MYRTLE smooths her skirt, tries to summon courage.
MYRTLE
I WANT YOU TO HAVE SOMETHING. I'M SURE YOU'RE WELL-AWARE OF THE TALE; I NEED NOT REPEAT MYSELF BUT…

I BELIEVE YOU ARE THE BEST HOPE THIS WORLD HAS AT REDEMPTION.

SOMETHING I ONCE SAW IN VINCENT.

Their eyes meet with words unsaid.
MYRTLE
I WANT YOU TO HAVE THIS.

MYRTLE opens her pocket and retreives a chain on which hangs a small locked box.
She holds the box in her hand, chain overflowing out of her palm.
CEDRIC, recognizing the object, softens his expression, eyebrows tense.
CEDRIC
MISSUS… I CAN'T TAKE THAT.
MYRTLE
WHAT DO YOU MEAN YOU CAN'T TAKE IT?

Inside the box, unseen, is a fang of the elder VINCENT MARSCAPONE.
CEDRIC
I CAN'T TAKE THAT. HE GAVE IT TO YOU.

MYRTLE blinks her eyes, slowly, dramatically.
MYRTLE
I'M NOT GOING TO BE AROUND FOREVER.

NO, CERTAINLY NOT.

Her tone takes on a serious immediacy.
MYRTLE
AND WHERE WILL I BE IF – WHEN – I DIE? IF I HAD DIED ON THE BATTLEFIELD, MY CORPSE WOULD BE LEFT BEHIND, LOOTED, RAVAGED, PILFERED.

NO.

THIS BELONGS TO YOU.

CEDRIC is silent a moment.
CEDRIC
YOU CAN'T GIVE THIS TO ME. I DON'T DESERVE IT.

GIVE IT TO KEVIN.
MYRTLE
TO REMIND HIM OF HIS PAST AND LOSS?
CEDRIC
IT WAS HIS FATHER'S. HIS FATHER RESCUED HIM. I AM SURE HE WOULD LIKE SOMETHING…

I JUST…

I CAN'T TAKE THIS FROM HIM.
MYRTLE
YOU ARE TAKING NOTHING FROM ANYONE.

BESIDES WHICH, I WANT TO BE SURE IT IS PROTECTED, AND I CAN THINK OF NO ONE –

CEDRIC seizes, flowing into a gesture of anger.
CEDRIC
YOU ARE CONSTANTLY UNDERESTIMATING HIM! YOU THINK HE'S JUST THAT SAME SICKLY CHILD HOUSEBOUND!

She is stricken to silence, still holding the talisman.
MYRTLE
(quietly) I HAVE NO DEFENSE.

She searches for words.
MYRTLE
I DO NOT KNOW MY SON ANYMORE. HE HAS BECOME SOMETHING ENTIRELY DIFFERENT. I WANT –

She is interrupted by the discordant alert of the doorbell. Some time ago, she'd set up an alarm system, wherein a press upon the doorbell of the front door would ring throughout the entire house.
As MYRTLE stares emptilly toward the sound, CEDRIC steps forward and snatches the chain from her hands.
MYRTLE
WE HAVE A VISITOR.

The two walk up the stairs.


---

When they reach the ground floor, MYRTLE takes a right toward the front of the house, where CEDRIC takes the left and enters the kitchen.
Here, he tucks himself behind a corner, as to be out of line-of-sight of the door.
When MYRTLE answers the door, she lets in a young man with a clumsy gait, welcoming him into the hallway.
LARRY
HEADMISTRESS, THANK YOU… THANK YOU SO MUCH FOR HAVING ME. I JUST DIDN'T KNOW WHERE ELSE TO TURN.
MYRTLE
WELL, OF COURSE. MY DOOR IS ALWAYS OPEN FOR MY STUDENTS.

PLEASE LET ME TAKE YOUR JACKET –

But the homecoming is interrupted by a rushing figure dividing the two of them. Coming from behind her left shoulder is CEDRIC, who's rushed into the foyer and pushed LARRY, securing him to the backside of the door. His two hands hold LARRY's shoulders, pinning him tight against the portal, immobilizing him.
CEDRIC
YOU?!

MYRTLE raises her hands in shock.
MYRTLE
CEDRIC! WHAT ARE YOU DOING?!

No one says anything. LARRY struggles but CEDRIC holds him fast.
CEDRIC
HOW DARE YOU SHOW YOUR FACE HERE!

LARRY comes to and eyes his attacker.
LARRY
CEDRIC?!
CEDRIC
YOU GOT IT, FUCKFACE.

LARRY tries his hand at diplomacy.
LARRY
YOU LOOK WELL, UPPERCLASSMAN.
CEDRIC
EXCUSE ME?

Carefully, LARRY enunciates.
LARRY
I SAID, YOU LOOK WELL.

CEDRIC struggles to speak clearly through bared fangs.
CEDRIC
SAY THAT TO MY FACE, YOU PIECE OF –
MYRTLE
BOYS…!

(thinking) Don't make me use the voice.

CEDRIC raises his fist and punches the door next to LARRY's ear.
MYRTLE
HEY, THAT'S MY DOOR!

But the young vampire can barely realize that MYRTLE stands behind them.
He removes his right hand from his hold and points emphatically toward his face, down the center of which runs a pale scar. His left hand remains gripping LARRY's shoulder.
CEDRIC
DO YOU SEE THIS?! DO YOU SEE WHAT YOU'VE DONE TO ME?

LARRY does not rise to match the vampire's anger.
LARRY
I DON'T KNOW, IT'S NOT SO BAD.

I LIKE WHAT YOU'VE DONE TO YOUR HAIR.
MYRTLE
(gently) LARRY…

(thinking) Enough of the jokes…

LARRY shifts uncomfortably, trying to endure the pain.
LARRY
AND YOU'VE BEEN HITTING THE GYM, TOO.

He looks down at his blue hoodie.
LARRY
MORE THAN I CAN SAY FOR MYSELF…

But CEDRIC is not disarmed.
CEDRIC
ONCE MORE, YOU STUPID –

And he moves to encase the wizard's throat in his grasp…
MYRTLE
CEDRIC!

UNHAND HIM. NOW!

The vampire releases LARRY, albiet slowly, begrudgingly. CEDRIC, still glaring, continues to focus his intense eyes upon the intruder.
MYRTLE
CEDRIC! ENOUGH! THERE WILL BE NO FIGHTING IN MY HOME!

Finally able to take a breath, LARRY strains to bring himself back to posture.
LARRY
CEDRIC.

I REALLY AM GLAD TO SEE THAT YOU ARE HERE.

CEDRIC remains silent. The tension hangs heavy in the air.
Trying to instill an air of civility, MYRTLE speaks to her guest.
MYRTLE
LARRY. IT'S BEEN MANY YEARS.

LARRY turns his gaze from CEDRIC to the crone.
LARRY
HEADMISTRESS.

YES. I COULD SAY THE SAME FOR YOU.
MYRTLE
CEDRIC HAS TAKEN UP –

SECURITY.

IT'S HARD FOR ME TO KEEP HOUSE LIKE I USED TO.

The two remain a sizable distance from each other. LARRY bends down to remove his shoes, as was always the custom in the school.
MYRTLE
CAN I OFFER YOU SOMETHING? TEA? HOW DID YOU GET HERE?
LARRY
I DROVE. I PARKED MY CAR ON THE CURB.
MYRTLE
GOOD GOOD. THE PUBLIC TRANSIT LEAVES SOMETHING TO BE DESIRED.
LARRY
I ALWAYS MISS IT THOUGH. IT'S A MESS TRYING TO KEEP UP WITH PARKING.
CEDRIC
SO WHAT BRINGS YOU HERE? LOOKING TO DABBLE IN MORE MAGICS YOU DON'T UNDERSTAND?

MAYBE YOU OUGHT TO SPEND A MINUTE OR TWO STUDYING A DIVINATION.

CEDRIC's bile has left a hole in the conversation.
LARRY
(to Myrtle) YES, MAYBE I WILL HAVE THAT CUP OF TEA.
---

In the kitchen, MYRTLE dumps old water from her steel kettle. She refills it from the sink and sets it atop the stove. With a FWICK, the thing starts steaming away.
LARRY
HOUSE LOOKS LOVELY, HEADMISTRESS. I DON'T EVEN KNOW WHAT YOU WERE SAYING ABOUT IT.

BUT I'LL GIVE YOU THE COMPLIMENT YOU DESERVE. IT LOOKS WONDERFUL.
MYRTLE
OH LARRY. YOU WERE ALWAYS QUITE THE CHARMER.
LARRY
I LEARNED FROM THE BEST.
MYRTLE
OH STOP IT.

She pauses a moment, taking in the ambiance, allowing the sound of the gas flow to fill her awareness.
MYRTLE
IT IS SO WONDERFUL TO HAVE TWO OF MY CROWNING ACCOMPLISHMENTS TOGETHER IN ONE ROOM.
LARRY
OH COME OFF IT.
MYRTLE
NO LARRY, TRULY –

YOU WERE GREATER THAN THE SUM OF YOUR PARTS.

I HAD SUCH A WEAKNESS FOR A FEW YEARS, FILLING THE ROOMS WITH MORE THAN I COULD HANDLE.

I HAD THOSE BUNKBEDS SHIPPED IN – WHAT A MISTAKE THAT WAS.

YOU AND THAT BOY - OH - WHAT WAS HIS NAME AGAIN? BROKE –
LARRY
(interrupting) YES – I REMEMBER THE STORY. REALLY I'VE HEARD IT MORE THAN I CAN BEAR AT THE MOMENT.

I HAVE TO PAUSE OUR TRIP DOWN MEMORY LANE AND ADDRESS WHY I'VE COME TO VISIT.
MYRTLE
I DIDN'T MEAN TO…
LARRY
IT'S FINE, HEADMISTRESS.

IT'S HERMIONE. SHE'S… WELL. I HAVEN'T SEEN OR HEARD FROM HER IN YEARS. WE WERE KEEPING UP PRETTY REGULARLY THERE FOR A WHILE BUT ALL OF A SUDDEN THE LETTERS STOPPED AND I JUST – WELL –

I'M WORRIED ABOUT HER.

DO YOU HAVE ANY NEWS?
MYRTLE
YEARS? OH MY.
LARRY
YEAH.
MYRTLE
WHY DIDN'T YOU COME TO ME BEFORE IT HAD BEEN THIS LONG?
LARRY
I THOUGHT I'D FIND HER MYSELF. I DIDN'T KNOW HOW THINGS WERE AT THE SCHOOL – I'D HEARD YOU'D STOPPED ACCEPTING NEW STUDENTS.
MYRTLE
(reluctant) THAT MUCH IS TRUE.
LARRY
I SHOULD HAVE COME SOONER, I WAS JUST CONVINCED THAT I COULD SOLVE THE PROBLEM MYSELF.

Leaning against a distant counter is CEDRIC, arms crossed, not intending to take any tea.
CEDRIC
AT LEAST YOU'VE LEARNT TO DRIVE.
MYRTLE
CEDRIC! PLEASE HAVE A LITTLE CIVILITY!

He uses his thumb to pick beneath his fingernails.
CEDRIC
YOUR DEAR FRIEND PROBABLY JUST MADE A MISTAKE DUE TO HER HISTORICAL OVERCONFIDENCE. GOT CAUGHT BETWEEN PLANES.

OR CURSED HERSELF SO HORRIBLY THAT SHE'S AFRAID TO SHOW HER FACE.

THANKS FOR FILING THE MISSING PERSONS REPORT, POTTER.

GOD KNOWS THE CRONE'S JUST GONNA OUTSOURCE THE JOB.
MYRTLE
CEDRIC!
LARRY
LORD, HE'S CERTAINLY GOT THE MOUTH ON HIM, HASN'T HE?

MYRTLE grows tired of the animosity.
MYRTLE
LARRY, PLEASE. PLEASE JUST…

(pause)

WHEN WAS THE LAST TIME YOU HEARD FROM HERMIONE?

The kettle threatens to whistle.
LARRY
IT WAS HERE, ACTUALLY.

WELL. NOT HERE HERE.

WE MET UP FOR COFFEE WHEN WE WERE BOTH IN TOWN.

I GOT THE SENSE SHE DIDN'T LIVE HERE ANYMORE EITHER.
MYRTLE
YOU DIDN'T ASK HER?
LARRY
WELL… NO. IT JUST SEEMED SHE WAS BEING SECRETIVE.
MYRTLE
WE CAN ATTEMPT A RITUAL.
LARRY
DO YOU HAVE ANYTHING OF HERS?
MYRTLE
I WOULD ASK THE SAME OF YOU!

MYRTLE turns to prepare the tea.
LARRY
I… TRAVEL LIGHT THESE DAYS.

PERHAPS AN ESSAY SHE WROTE… TUCKED IN YOUR FILES?
MYRTLE
I'M NOT IN THE HABIT OF KEEPING SUCH THINGS.

They think for a while until CEDRIC speaks up.
CEDRIC
…

THE YEARBOOK.

The two mages look toward the surly vampire.
MYRTLE
YES… OF COURSE. THE YEARBOOK.

THAT WOULD HAVE HER SIGNATURE AND HER CLOSING WORDS. I HAVE PUT IT UPSTAIRS IN THE LIBRARY.
---

After they've completed their indulgence, the three go upstairs. MYRTLE opens a glass-doored cabinet displaying books and scrolls, decorated with parchments stuffed in odd places.
The tome she retreives is thick and overstuffed and doesn't close completely flat.
MYRTLE
HERE, LARRY. YOU FIND YOUR YEAR.

I CAN HARDLY MANAGE TO THINK OF THE THING ANYMORE.

LARRY takes the book with both hands and sits upon the floor, splaying the book in front of him. He flips carefully through the pages. Each opened fold has a black and white photograph adhered to the right page.
The portraits are large, the medium displaying high-contrast depictions of each of the students of MYRTLE's academy.
Finally, after flipping through tens of pages, he stops at a young witch with a bright smile and a mess of wavy hair.
It is HERMIONE.
MYRTLE walks over and peers over LARRY's view.
MYRTLE
VINCENT WAS SUCH A MAGNIFICENT PHOTOGRAPHER.

MYRTLE carefully lowers herself to the ground to sit down next to LARRY.
MYRTLE
SHE REALLY WAS BEAUTIFUL.
LARRY
SHE WAS.

CEDRIC remains standing, running one fingernail underneath another.
On the spread, underneath the adhered portrait, is an oversized signature. The rest of the page is filled with a carefully penned message addressed to MYRTLE and her future students.
MYRTLE
WONDERFUL PENMANSHIP.

LARRY looks toward the woman, and then up to CEDRIC.
Without moving her downward gaze, MYRTLE speaks a little louder, clearly addressing the blond man.
MYRTLE
CEDRIC, WILL YOU JOIN THE RITUAL?

He pauses, noting LARRY's attention.
CEDRIC
(terse) I DON'T THINK THAT WOULD BE PROPER.
MYRTLE
CEDRIC, DON'T BE LIKE THIS.
LARRY
(quietly) IF HE DOESN'T WANT TO PARTICIPATE, YOU SHOULDN'T MAKE HIM.

She waves her hand, trying to invoke authority.
MYRTLE
ENOUGH, LARRY.

CEDRIC.

CEDRIC hesitates for a moment, and then, gradually, approaches the pair on the floor. He takes a seat on the floor and crosses his legs.
The two men lay out their hands on their knees as MYRTLE runs her fingers over the signature. When she finishes, having done that several times, she reaches her hand out for LARRY's.
She closes her eyes and the circle is completed.
MYRTLE
OH – OF COURSE.

She removes her hairpins and her greying locks tumble down her back, still creased from the updo.
To complete this sort of scrying ritual, one only need to focus on the missing subject. It is acceptable for the participants to allow the barest wandering and meandering of concentration, such that the overarching thesis remains focused.
MYRTLE feels her mind wander to one day, many years ago, when most of the school was on an outing into the city.
HERMIONE had remained within these four walls.
After fussing about in the kitchen, MYRTLE had walked up the library stairs – slowly, even then – and found HERMIONE kneeling over a huge tome she'd spread on the floor.
This very floor.
MYRTLE
MISS GRANGER!!

She'd been in the Restricted Section.


---

MYRTLE's eyes flash open. She feels her hair settle, heavy over her back as if a wind has suddenly gone out.
LARRY still has his eyes closed. CEDRIC has his eyes open, piercing her veil.
She unclasps her hands. They are suddenly very aware of the cold.
MYRTLE
I SAW NOTHING.

LARRY opens his eyes and turns toward the agèd witch.
MYRTLE
NOTHING.
LARRY
… THAT COULDN'T MEAN…
MYRTLE
I MUST CALL MY SON.
---