---
// MARSCAPONE SUMMER HOME //
Since liberating himself from the plasma fruit business, CEDRIC has moved in with KEVIN at the MARSCAPONE SUMMER HOME, a sprawling house near the beach in Suffolk County.
KEVIN has been involved deeply in his research and keeping mostly to himself, leaving CEDRIC time to focus on his music.
Today CEDRIC rises from a dreamless slumber, recommitted to his day's tasks. The house is quiet.
One small room has been designated a computer room. A number of unpacked boxes lay to one side of the room.

WELCOME TO THE (w)INTRANET
The (w)IntraNet is a project of STRAUD's vision that allows for encrypted communication between his followers and friends. CEDRIC has become the defacto webmaster. His fastidious coding and attention to detail has allowed STRAUD to enjoy, rather than manage, the project.
He looks over a few reports. One of interest details the ban of FRIDAY PERKINS.
CEDRIC
(thinking) Finally the fly brought the spider to the web.
He closes the reports and the hint of a smile rises over his face.

CEDRIC//
Hey Mandarc.

MANDARC//
hey cedric what's up

CEDRIC//
Got some good news for you.
Finally got the creds I needed to ban Friday from the forums.

MANDARC//
Damn. Thanks man.
She's been lurking for that long?

CEDRIC//
It's hard to say how often she actually logged on;
She had a utility to scrub her IP
but got around it with an out-link.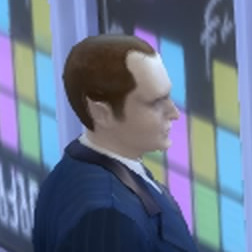 VINCENT//
Sorry it wasn't sooner.
Suddenly there is a knock at the door.
KEVIN
'EY CEDRIC. YOU FREE THIS AFTERNOON?
I GOTTA GET OVER TO TRAIN THE WHELPLING.
IF YOU'RE BUSY I CAN RESCHEDULE.
CEDRIC
YEAH NO PROBLEM JUST LET ME WRAP THIS UP.
KEVIN
CAN I COME IN?
CEDRIC
YEAH SURE.
CEDRIC, KEVIN acknowledge each other with a glance.
KEVIN looks over CEDRIC's shoulder to see that he's on the 'Net.
CEDRIC
SO HOW'S THE TRAINING GOING?
KEVIN
GOOD GOOD.
CEDRIC
FINALLY GOT PERKINS BANNED. SO, FEELING GOOD ABOUT THAT.
KEVIN
DAMN, SHE WAS STILL LURKING?

VINCENT//
Yup.
CEDRIC
SHE GOT SLOPPY.

MANDARC//
good riddance

VINCENT//
Yup.
CEDRIC leans back in his chair and stretches his arms above the peripherals.
CEDRIC
GOTTA GET ROXANNE HOOKED UP AFTER YOU'RE DONE WITH THE KID.
KEVIN
STRAUD THINKS SHE'S PASSED MUSTER?
CEDRIC
APPARENTLY.
THOUGH HIS NEWEST CROP OF STUDENTS HAVE BEEN…
LACKLUSTER.
SORRY, MANDARC.

MANDARC//
none taken
---