Fluffify me, Cap'n
using a double-boiler or a microwave, melt 50g butter
remove butter from heat
to liquified butter, add 41g granulated sugar & 9g molasses and dissolve as remaining heat allows
stir in 2t vanilla & 2 eggs and set aside
create soured milk: 1c cow milk, 3/5c oatmilk, 2T vinegar and allow to sit ~5min
add milk to butter/sugar and mix throughly (I use an electric mixer)
add 124g AP flour, blend until smooth
add 6g b.s, 6g salt, 4g b.p, 123g AP flour and blend (gently) until smooth
fry on a hot, oiled griddle or cast-iron skillet
Observations
As per image, center is a pinch moist, although moisture content is conducive to eating later in the day; pancakes are still quite good after a few hours of sitting out.
As per image, some of the bubbles created from leavening are a little large. Small bubbles should be evenly distributed – let's reduce leavening just slightly in next version.
In past experiments, I have substituted a banana baby-food pouch for an egg. It worked out quite well and I will continue to try this as an occasional variation.
Oatmilk may be able to substitute entirely for cow's milk but I am concerned about reducing the protein content as well as reducing the efficacy of the vinegar-milk.
Pancake is very soft to the touch, 'like a kitty-cat', I was told.
FINAL GRADE
B+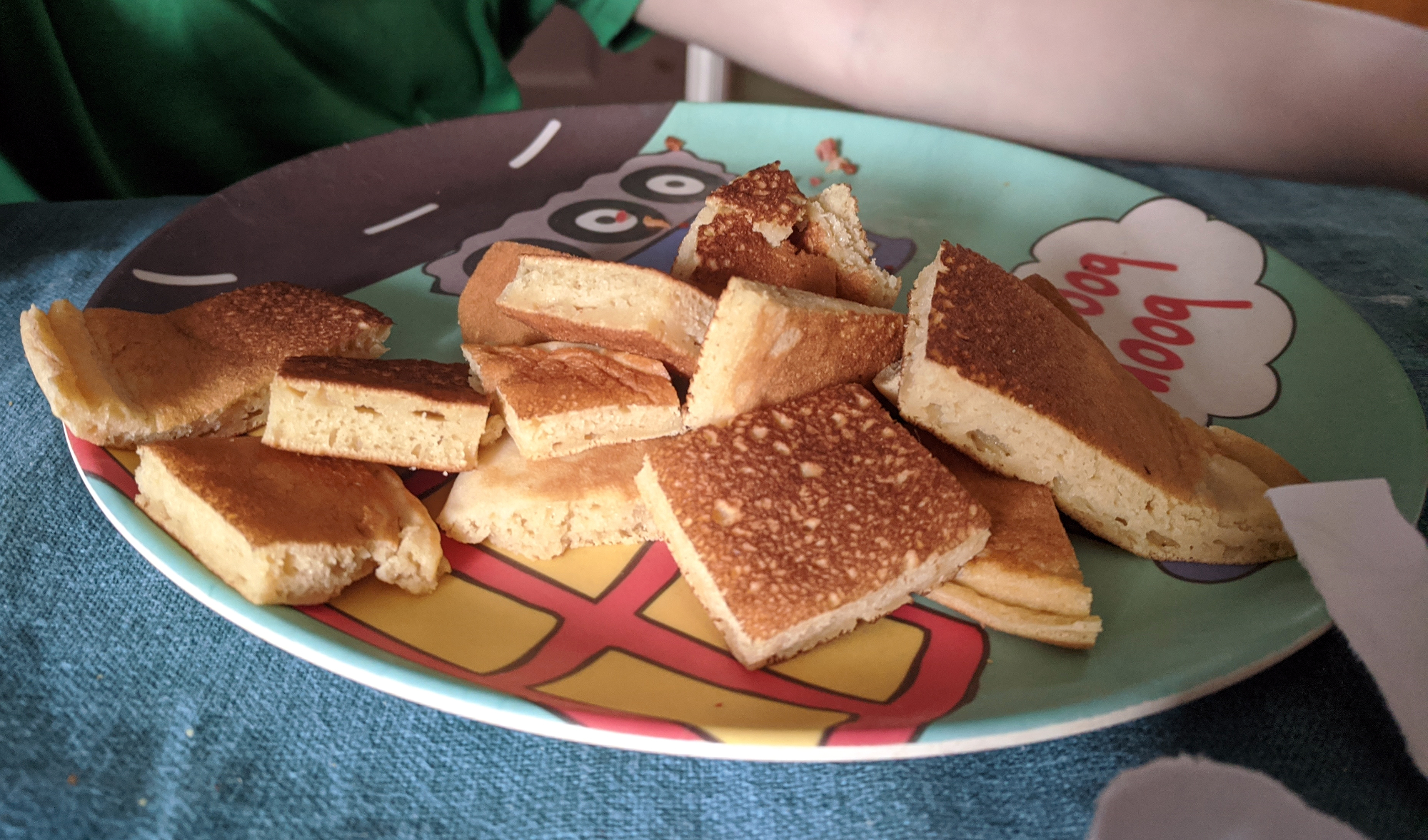 ---
Comments
No comments found for this article.
Join the discussion for this article on this ticket. Comments appear on this page instantly.