---

CEDRIC//
I had two distressing dreams.
Only the one in the morning made much of an impression on me.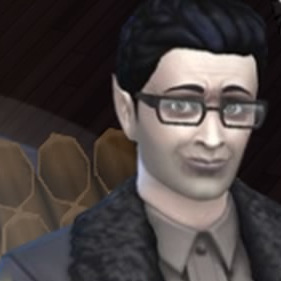 MANDARC//
I haven't seen anything lately.

CEDRIC//
I was on a boat, a bathroom. Going to take a shower.
It was a big fancy boat, like something of a hotel.
Before I could get to the water to turn it on, water started pouring in through the sides of the room. Rapid, fast, like nothing I could hope to control.
My daughter came to me.
"Mommy!" she cried.
I held her fast and cradled her, knowing the end was upon us.
I feared the drowning, but stood my ground, knowing I had to be strong for her.
"It's going to be... okay." and I smoothed her hair, trying to reassure her in light of the inevitable.
But I was afraid.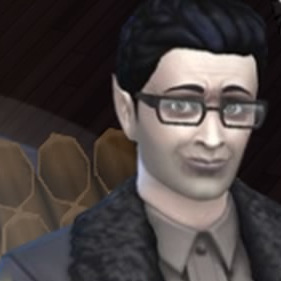 MANDARC//
...You'd be a good father.

CEDRIC//
How do you know?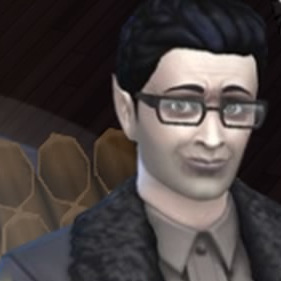 MANDARC//
I don't know, I just get that impression.

CEDRIC//
I was afraid. I was envisioning myself Mortal. Again.
I am having difficulty projecting forward.
Not fully lucid.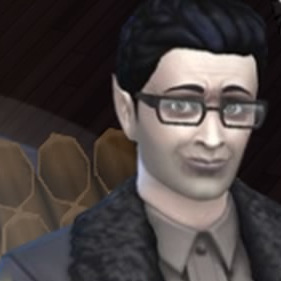 MANDARC//
...
You still seem to be making progress.

CEDRIC//
Not quickly enough.
---

For the first time this winter, snow has fallen upon the ground. It has made travel a bit more time consuming, but not difficult.
Cedric is again taking the bus. Each individual that's boarded the bus has done so with a satisfying
[ SLOSH ]

of snow and winter shoes upon the rubberized flooring. Everyone's bundled up inside thick coats. A mid-aged woman catches his attention with a realistic line of faux-fur detailing her hood.
CEDRIC
(thinking) With each passing year…

(thinking) It becomes harder and harder to tell the difference.

Finally he arrives at his intended bus stop. But he's not sure whether he really wants to disembark or if he'd prefer to linger on the bus, people-watching while bound for destinations unknown.
But he has a schedule, and promise, to keep.


---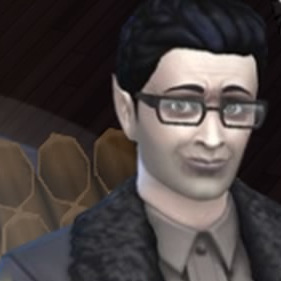 MANDARC//
So.
What're you up to today?

CEDRIC//
Visiting with the Zhou family.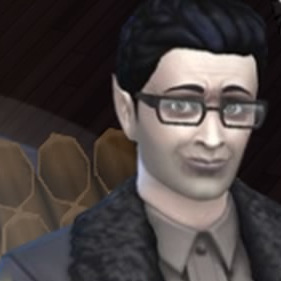 MANDARC//
You are so lucky, you know.
Your very own acolytes. And four!
They're family so they're unlikely to fight amongst themselves...

CEDRIC//
Please keep insisting families all happily cohabitate.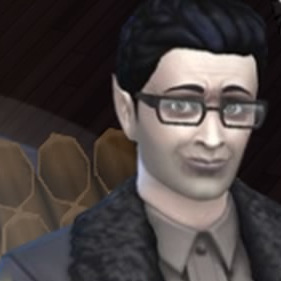 MANDARC//
Sorry.
Still probably true more often than not.

CEDRIC//
Anyway.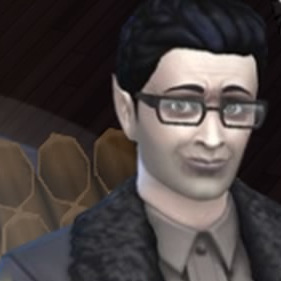 MANDARC//
Anyway, I'm still jealous.
---
// ZHOU HOUSE //
[ KNOCK KNOCK KNOCK. ]

This time it's Seven who answers the door.
SEVEN
HI CEDRIC!

WELCOME WELCOME.

PLEASE COME IN.

Cedric kicks snow from his shoes and steps into the warm house.
SEVEN
IS IT REALLY TRUE, WHAT THEY SAY?

THAT VAMPIRES CAN'T GO INTO A HOUSE UNLESS THEY'VE BEEN INVITED?

It did seem the little tyke loved her lore.
CEDRIC
NEVER BEEN A PROBLEM FOR ME.

They leave the sheltered porch and enter the proper house, Cedric now having removed his shoes.
SEVEN
YEAH, THAT'S KIND OF WHAT I'VE BEEN THINKING.

'CAUSE, YOU KNOW –

IT'S NOT LIKE DAD INVITED IN THE VAMPIRES WHO ATTACKED US.

WE WERE IN A HOUSE.

WASN'T OUR HOUSE, BUT THAT SHOULDN'T MATTER, SHOULD IT?
CEDRIC
LIKE I SAID, YOU SHOULD BE CAREFUL ABOUT THINGS THAT YOU READ IN BOOKS.

THEY'RE NOT NECESSARILY UNTRUE, BUT MUST BE READ IN THEIR OWN CONTEXT.
SEVEN
I HAVE A COPY HERE.
CEDRIC
…

OF COURSE YOU DO.

Seven walks toward a stately bookshelf and pulls down a small book, decorated throughout with colorful sticky-notes.
She flips through the tabs.
SEVEN
ONE OF MY FAVORITES.

CHAPTER 18. MINA HARKER'S JOURNAL.

She mumbles to herself while glancing through the words.
SEVEN
"NECROMANCY"…

"STORM", "FOG", "THUNDER"…

BLAH BLAH BLAH…

DO YOU EVER FIND IT DIFFICULT TO READ SOME OF THESE LONG PARAGRAPHS?

Cedric raises his eyebrow to her.
CEDRIC
AT… TIMES.

She returns to her well-worn book.
SEVEN
NEVER DID HE EAT…

"MIST", "MOONLIGHT"…

AHA!!

Seven points to the passage and scoots next to Cedric, positioning the book so that he may, if he desires, read along with her as she speaks aloud.
SEVEN
"HE CAN DO ALL THESE THINGS, YET HE IS NOT FREE."

YADDA YADDA…

"HE MAY NOT ENTER ANYWHERE AT THE FIRST, UNLESS THERE BE SOME ONE OF THE HOUSEHOLD WHO BID HIM TO COME; THOUGH AFTERWARDS HE CAN COME AS HE PLEASE."

At the conclusion of the reading, he stands up straight. He's considerably taller than Seven; a vampire permanently imprisoned in the body of a ten-year-old girl.
Taking the right of a convert to be fully expressed in their own body is taboo in their circle; Straud has expressly forbidden it, stating he would personally exact a vengeance worse than death.
CEDRIC
NOTE THE WORD VAN HELSING USES –

"HE".

HE'S REFERRING TO DRACULA.

THE FIRST THING YOU SHOULD KNOW IS THAT NOT ALL VAMPIRES ARE ALIKE.

JUST LIKE ALL HUMANS AREN'T ALIKE.

NOW, I NEVER MET DRACULA OR VAN HELSING SO LET'S JUST ASSUME WE HAVE A TRUSTWORTHY NARRATOR HERE AND NOT A COMPLETE WORK OF FICTION, BUT –

THESE LIMITATIONS ARE CONNECTED TO HIM.

LIKELY HIS LINE AS WELL, BUT THAT'S NO GUARANTEE.

LET'S JUST ASSUME THESE LIMITATIONS APPLY TO HIM AND ONLY HIM.
SEVEN
DOES THAT MEAN THE BENEFITS AREN'T UNILATERALLY APPLIED EITHER?
CEDRIC
"BENEFITS"?

She turns back to her reference material.
SEVEN
"HE CAN, WITHIN LIMITATIONS, APPEAR AT WILL WHEN, AND WHERE, AND IN ANY OF THE FORMS THAT ARE TO HIM"…

"HE CAN GROW AND BECOME SMALL; AND HE CAN AT TIMES VANISH AND COME UNKNOWN."
CEDRIC
YOU MEAN THE SHAPESHIFTING.

…WELL.

THAT'S KIND OF THE TRICKY PART, ISN'T IT?

IT'S IMPOSSIBLE TO KNOW WHETHER SOMETHING IS TRULY IMPOSSIBLE, OR YOU SIMPLY HAVEN'T LEARNED IT YET.
SEVEN
CAN YOU DO IT?

WALK AS MIST?

He blinks slowly, a number of unwelcome memories flooding back to his waking thoughts.
CEDRIC
…

YES.

I CAN.

Her face brightens and she laughs, triumphant.
SEVEN
THAT. IS. SO. COOL!

WOW.

JUST WAIT UNTIL THE GIRLS HEAR THIS!

I'M SO GLAD PAPA BROUGHT US HERE.

Cedric does not rise to meet her enthusiasm. He takes this opportunity to change the subject.
CEDRIC
I TAKE IT YOUR FATHER HAS HAD YOU TRAVELING AROUND A LOT.

Seven puts her book back on the shelf.
SEVEN
YEAH, WE'VE BEEN ALL OVER THE PLACE.

CAN'T TELL YOU HOW MANY TIMES I'VE DONE FOURTH, FIFTH, AND SIXTH GRADE.

WE GO SOMEWHERE NEW WHENEVER PEOPLE START ACTING FUNNY.

DAD'S REAL GOOD AT FAKING PAPERWORK.

HE'S HAD A LOT OF PRACTICE.
CEDRIC
I'M SURPRISED YOU'RE ABLE TO BE ACTIVE DURING THE DAY.
SEVEN
YEAH, IT USED TO BE WORSE FOR US, BUT IT'S GOT EASIER AS TIME'S GONE ON.

I GUESS THAT'S WHAT YOU'RE SAYING, THE PROBLEMS LESSEN WITH TIME.
CEDRIC
AGE.

THE WORD YOU WANT IS AGE.

SEVEN pauses, seeming unaccustomed to being corrected in this way.
CEDRIC
BUT IT'S TRUE; THE WEAKNESSES THAT CONFINE A FLEDGLING TO THEIR COFFIN WILL DECREASE OVER TIME.

BUT THEY NEVER TRULY GO AWAY.
SEVEN
OKAY, THAT MAKES SENSE.

I THOUGHT IT WAS BECAUSE WE WERE CHILDREN.

I CAN GO TO SCHOOL BUT DAMN IF I'M NOT TIRED ALL. DAMN. DAY.

ARE YOU LIKE THAT TOO? I NOTICE YOU ONLY COME OUT AFTER DARK.
CEDRIC
TWICE IS COINCIDENCE.
SEVEN
AND THREE TIMES MAKES A PATTERN.
CEDRIC
ENEMY ACTION.

THREE TIMES IS ENEMY ACTION.

IAN FLEMING. GOLDFINGER.

…

WHERE IS EVERYONE?
SEVEN
PAPA IS PROBABLY UPSTAIRS. PENNY AND ALYSON ARE DOWNSTAIRS, I'M SURE.

THAT'S WHERE OUR COMPUTERS ARE.
CEDRIC
IS IT STRICTLY REQUIRED THAT YOU ATTEND SCHOOL?
SEVEN
TELL ME ABOUT IT!!

I KEEP TELLING PAPA THAT WE LIVE IN THE BIG CITY NOW AND NO ONE WILL THINK TWICE ABOUT SEEING A CHILD IN HER HOUSE DURING THE DAY BUT HE WON'T LISTEN.

MAYBE YOU CAN CONVINCE HIM.
CEDRIC
SCHOOL IS A RISK I'M UNWILLING TO TAKE.
SEVEN
AND IF I HAVE TO READ 'NUMBER THE STARS' ONE MORE TIME I JUST MIGHT SCREAM.

I MEAN, IT'S A GOOD BOOK AND ALL BUT O.M.G.!

THAT AND 'HOLES'.

DO YOU HAVE ANY IDEA HOW MANY SCHOOL DISTRICTS ASSIGN 'HOLES'?!
CEDRIC
…

NO, I DON'T.

Seven retreats in embarrassment.
SEVEN
SORRY.

BUT I AGREE. I THINK IT'S SILLY TO KEEP SENDING US TO SCHOOL.

…MAYBE WE COULD DO HOME-SCHOOL?
CEDRIC
I'LL TALK TO YOUR FATHER.
SEVEN
OH, I'LL TALK TO HIM.

I MEAN, YOU CAN TALK TO HIM IF YOU WANT.

I DON'T KNOW. MAYBE IT'LL HELP.
---