---
dedication
to any pale face who thought if they'd sit in the sun, they'd turn to a rose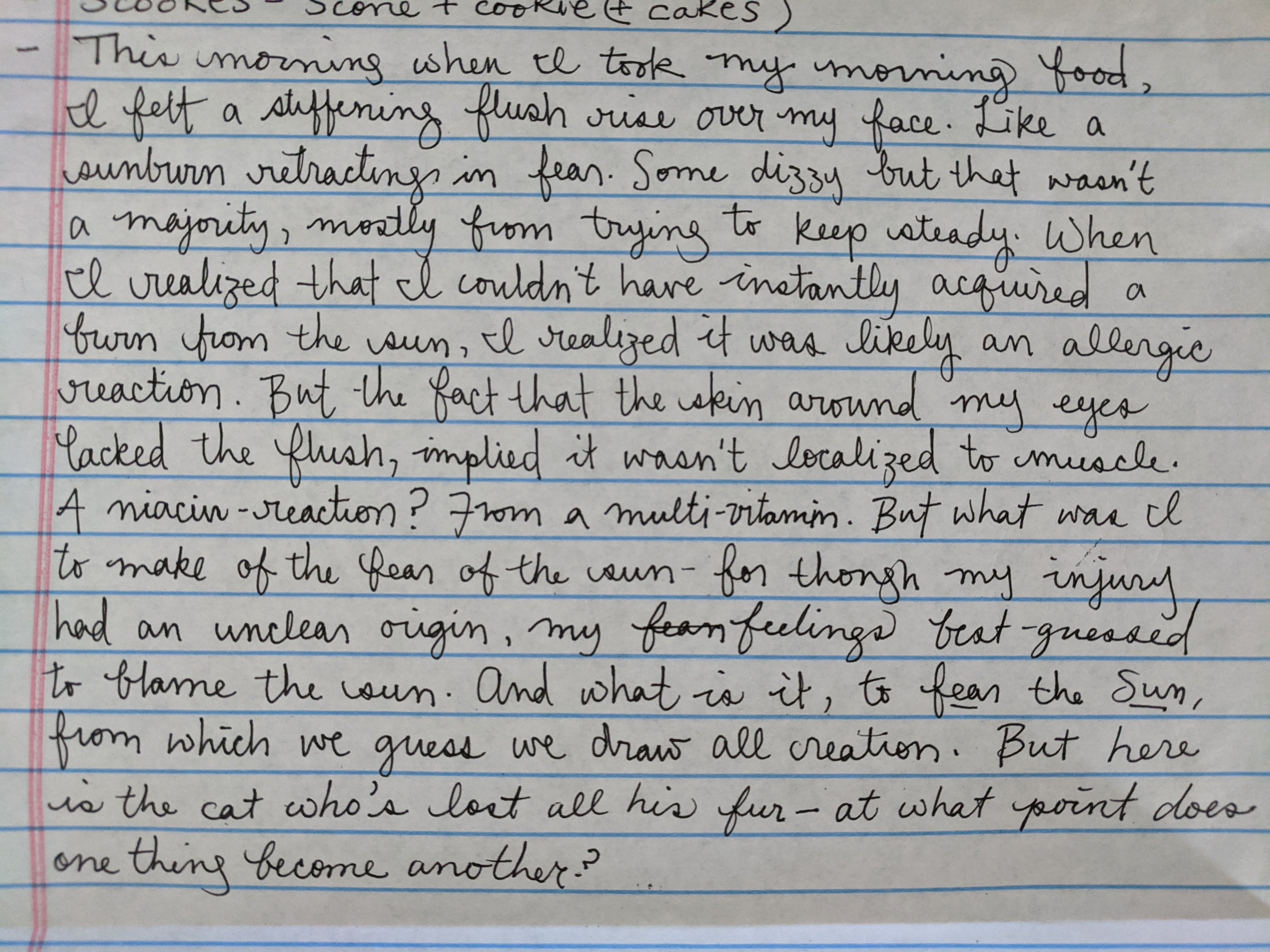 cast of characters
top of her class, aspiring spellcaster
younger brother of Hermione. middling in ability
Larry's classmate
acquaintance; former upperclassman
OPEN VISUAL
ACT 1
flyby of suburban town in somewhere, (forested edge of the mountains) America. April. visuals are idyllic ~ tending toward "a little too perfect" with musical hinting.
The flybys get closer to the ground and pan over CEDRIC, 25, out for a jog. He is a young man with soft light-brown hair. He has a tense expression on his face as he jogs on the pressed dirt edging the street and wilderness. By the montage, he has been jogging from afternoon to the twilight.
A car is driving down the street. The car is being driven by HERMIONE, 18-20YO. In the passenger seat is LARRY, 17, who is bending around the seat to talk to R, seated anxiously in the backseat of the car. It is not apparent what the boys are talking about. Hermione is nervously driving on the curved, forested road.
She is pushing the limits of her driving ability and makes a mistake. Around a bend, she doesn't turn enough and she slips off the road and strikes CEDRIC, sending him backward into the woody brush.
LARRY
(leans forward in his seat) HERMIONE, DID YOU JUST HIT SOMEONE?
R
(clenches jaw, uses window)
HERMIONE is terrified. She stops the car, leaves her door open, and runs to the body she's struck. Larry and R slam their doors and follow behind her. Between the setting sun and the surrounding trees, it is getting darker. Ron is hunched over, already disturbed. He turns on a flashlight.
HERMIONE
OH–
HERMIONE brings her hands to her face in shock.
IT'S CEDRIC!
HERMIONE approaches CEDRIC, whose body partially crushed a dry bush. The boys are close behind her.
LARRY
SHI–
LARRY stops mid-word as we see HERMIONE is trying to pick up the unconscious CEDRIC. He and R rush forward to assist laying CEDRIC on the ground. HERM begins to assess his injuries. HERM has some experience administering first-aid, but remains tearful and nervous.
This is the first close-up of CEDRIC's face. He looks the part of an high-achieving, now-graduate, of the school shared between the four young adults. His face is relaxed, as if asleep. The three recognize the blow to his torso is a mortal wound.
He is bleeding and pulse is weakening. HERMIONE twitches to hold back tears.
HERMIONE
(while looking helplessly toward CEDRIC dying) I…
LARRY
(while looking around for a car) WHY WON'T ANYONE…
HERMIONE
(scared)
TIME FORWARD
The scene cuts to CEDRIC'S STUDIO APARTMENT. He is collapsed face-down on the floor, wounds healed, clothes clean. He is breathing, if shallowly. The window has broken; a tree branch has shattered glass on the floor. The sky is cloudy.
CEDRIC is bodily exhausted but now mentally awake.
ENTER FLASHBACK TO LAST NIGHT
HERM,L,R all crowded into shot, starts as blurry then slowly comes to focus. The teens are crowded in close to CEDRIC as he regains consciousness. He is uninjured and his clothes are clean.
HERM,L,R help CEDRIC to his feet. He is out of breath but otherwise seems okay.
HERMIONE
CEDRIC… (pause) ARE YOU … OKAY?
As CEDRIC stands still, he regains his breath.
L,R look at each other awkwardly as all four stand still, aware of the silence.
CEDRIC
(pause) YOU.
He looks at HERM and clenches his fist, remembering the offense.
YOU HIT ME WITH YOUR CAR!
HERMIONE
(struggling to maintain eye contact)
CEDRIC takes a step of aggression toward HERM. The sound of foot on dirt ignites L,R to action but they are unable to mask their fear.
L,R rush in to surround HERM defensively. CEDRIC holds tension in his muscles, and then relents. He looks down at his hands.
LARRY
(defiantly) HERMIONE SAVED YOUR LIFE!
CEDRIC
(silence)
LARRY
WHAT IF IT HADN'T HAVE BEEN US? HUH? WHAT THEN?
CEDRIC
(grimaces)
LARRY
WHAT–? YOU..YOU JUST WOULDA BLED OUT TO DEATH! YOU HA–
CEDRIC
(interrupting) I DON'T HAVE TO DO ANYTHING!
HERMIONE
(silence, almost cowering)
PAUSE FLASHBACK
CEDRIC has not moved from the floor. The broken window is in his periphery and he observes it but still does not move.
RESUME FLASHBACK
CEDRIC
(while looking at HERMIONE) … REGENERATION…?
CEDRIC is in disbelief but he is still furious. HERMIONE stands still as if embarrassed.
CEDRIC
YOU CAN CHANNEL BLOOD?
CEDRIC looks at the boys.
CEDRIC
AND YOU, AND YOU, …
CEDRIC looks down at himself, at Hermione, and then CEDRIC seizes up in irritation before pointing angrily at the boys.
YOU TWO'RE DRUNK!
PAUSE FLASHBACK
CEDRIC is still laying on the linoleum. He brings his hand to his head to fight headache. Twinge of pain.
Slowly he rises to vertical but remains on the floor. He appears to be looking at the broken window.
CEDRIC rises and looks around to survey his apartment. While he slowly musters strength, we see that he lives in a studio built above a stand-alone garage. Windows are placed high on the walls, leaving the floor dimly lit. The furnishings are modest. He lives alone.
Tension is thick in the silence. CEDRIC stares out an unbroken window, absent of concern for the broken glass.
OUTSIDE CEDRIC'S APARTMENT, animal life rustles. Birds peck at the spring dirt and a cat scavenges for food around garbage cans. An indiscriminate amount of time passes; the weather is overcast, gloomy. Shadows dance over fixtures of the apartment, abandoned by CEDRIC, presumably still staring out the window.
---
Comments
No comments found for this article.
Join the discussion for this article on this ticket. Comments appear on this page instantly.