---

AVAEL//
IT WAS HERE THAT I BECAME AWARE OF ODDITIES ABOUT THE DOCTOR.
BUT IT DID NOT ALL COME TOGETHER UNTIL MUCH LATER.
I HAD MET SO FEW PEOPLE IN MY LIFE
I SIMPLY THOUGHT HIM ODD, NOT ANYTHING ELSE.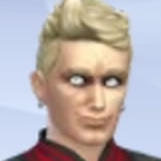 CEDRIC//
You had nothing else to go on.
What would you have done even if you had known?

ROXANNE//
Did you finish the portrait?

AVAEL//
I DID FINISH THE PORTRAIT.
WHAT BECAME OF IT I WILL TELL YOU ANOTHER DAY.

AVAEL//
THE NEXT MORNING, I FOUND A NOTE FROM THE DOCTOR TELLING ME HE HAD LEFT BEFORE DAWN.
HE APOLOGIZED FOR LEAVING IN SUCH HASTE BUT CLAIMED THAT SINCE MY FAMILY WAS IMPROVING, THERE WERE OTHER PATIENTS HE NEEDED TO CHECK IN ON.
HE LEFT MEDICINE AND INSTRUCTIONS, TASKING ME TO DOLE OUT TREATMENT TO MY FATHER AND MAURICE.

AVAEL//
SOON, HE SHOWED UP ONCE A WEEK TO BRING MEDICINE TO OUR FAMILY.
I BEGAN TO LOOK FORWARD TO HIS VISITS AS THEY WERE ONE OF MY ONLY CONNECTIONS TO THE WORLD OUTSIDE.
I WAS TOO FASCINATED BY HIM TO BE WARNED THAT HE NEVER ATE IN MY PRESENCE. I SIMPLY FOUND HIM PECULIAR. AND IN TURN, I WAS ENAMORED.
I BEGAN TO HOPE THAT HE WOULD ASK ME FOR MY HAND IN MARRIAGE.
BUT HE NEVER WOULD.